We are delighted to have once again won the Event Technology Award for Best use of Technology for Event Analytics / Data Collection. This is the fifth year in a row that we have won this particular category. And our 7th Event Technology Awards win.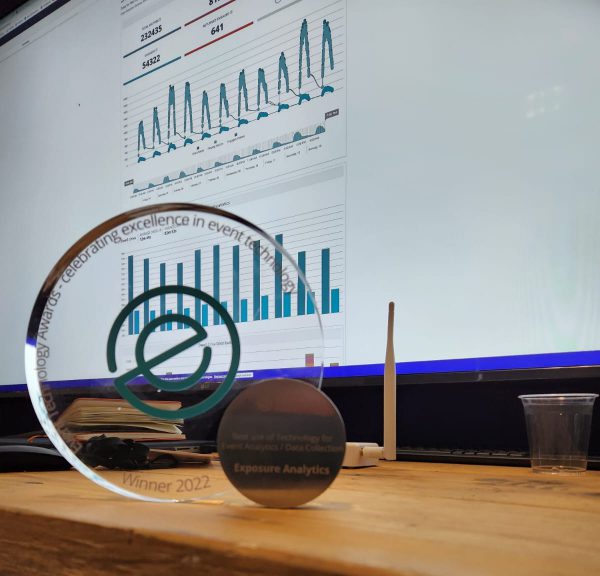 Our sensors provide a wide range of insights and event analytics including footfall, flow routes, dwell time and engagement rates.  The data gathered and encrypted by the sensors is sent to our advanced cloud platform for analysis which then builds a picture of visitor movements, accessible in real time or post event.
We had two entries shortlisted in this category this year.
The first was for work with an agency and their pharmaceutical client at a prestigious medical conference. The data captured included total visitor numbers to the area of the stand at the ASH 21 event in the USA, how many of those passed-by, how many stopped to find out more and what their average dwell time was. Our agency client found it is easy to see fluctuations in visitor numbers to different areas of their client's stand, and how they varied throughout the day.
The second recognised the work we did for an agency representing a large gaming company at the flagship Game Developers Conference in San Francisco. Our client wanted to understand the way people interacted with all parts of the stand – how long did they stay? What areas were more popular? How well used were the small booths where attendees could get expert advice from the gaming company employees? Did people spend time in the ideal spot for viewing the main screen on the stand? They wanted real time information as well as data they could use in planning for future events.
We worked proactively with the client, engaging early to incorporate our technology in the stand design, rather than just fitting sensors to the finished stand. This meant that the sensor placement was designed to produce the absolute best analytics. Our technology more than met our client's objectives, giving them exact numbers of people entering each area and showing trends across each day and the whole event. This information was available in real time and for post event evaluation and future planning.
We're thrilled that once again the quality of our insights and event analytics has been recognised. Thanks to all of the team and our fabulous clients who make it possible.