Introducing our new People Coordinates system – a clear visual overview of the exact movement of visitors around your space. 
Like so many of us in the events industry, Spring of 2020 was pretty quiet. But that did give us the opportunity to do the final testing and a quieter than we'd planned launch of our new analytics technology. As well as counting everyone in a particular space so you know exactly how many people are there at any one time, People Coordinates data can be accessed remotely in real-time and also played back to review and plan your next event or exhibition.

When we were first developing the technology we had no idea that it would end up with much of its early use checking whether there were too many people in a particular area. Our clients are usually hoping for as many people as possible for as long as possible! 
One of it's early uses was at a university building. They needed to check that it wasn't becoming overcrowded when it reopened after lockdown.
We were so excited to be at Event Tech Live earlier this month and properly launch People Coordinates for event organisers, exhibition managers, and experiential marketers.
 Our Managing Director, Rob Murdoch said: "People Coordinates is the next evolutionary step in our analytics portfolio giving our clients precise visitor movements enabling them to react and plan better."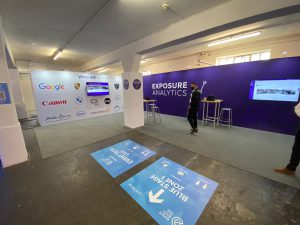 Now that events, festivals, exhibitions, gigs, and conferences are back, we've returned to using People Coordinates for its original purpose as well.  People Coordinates compliments our existing analytics technology. Together, our sensors, sometimes referred to as beacons, deliver real-time insights into how visitors interact with your event showing how people are moving around, what's capturing their attention, how long they stay around for, and the routes they take.