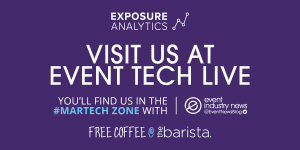 We can't wait for this year's Event Tech Live, and not just because we are shortlisted in five categories at the Event Technology Awards!
We're looking forward to meeting attendees, providing free coffee, and giving away over £1000 worth of prizes.
Our Commercial Director Rob Murdoch will be sharing his industry-leading knowledge on how to use event technology to give you the effective data you need and talking through the issue of Facial Recognition. Catch him on the Brand & Buzz stage on Wednesday 6th at 11.25 and again at 13.50.
To be in with a chance of winning a prize all you need to do is drink a free coffee from our coffee bar in the Martech Zone. Then bring your 'smart cup' to our stand, number 1106, to see if you are a winner.
While you are there, have a chat with one of our friendly team about how our technology to capture event analytics can help you to calculate return on marketing investment and some of our latest developments including Twitter integration.
Keep your fingers crossed for us on the evening of 6th November. The Event Technology Awards take place after Day One of Event Tech Live. We're short-listed for Best Technology Partnership with SaleStratus, Best Use of technology at Brand Event, Best Venue Installation, Best Use of Technology for Event Analytics, and Best use of Wireless Technology. 
Thanks to all of our clients who helped us to finalise the entries. As part of our Best Venue Installation submission, Amir Vered, of Olympia's eForce said:  
"Detailed events analytics is the future for event technology. eBox has helped us advise organisers on traffic flow through their events, giving them evidence to base decisions on.

"It has also allowed us to support our repeat exhibitors by building up a pattern of data from each year – where's best for seminars and how to distribute attractions throughout our space. The character of each day can also be analysed; for example, on one day we saw fewer attendances but greater engagement, suggesting a different audience for exhibition stands. It really is the next level of service for our clients."

"The results are more detailed than some other venue-wide systems, we can be as granular as we need to really pinpoint what's happening."
We're looking forward to catching up with clients and event professionals at the Truman Brewery very soon.