We're really looking forward to the Event Tech Awards on November 7th, we're delighted to have been shortlisted for two awards for our event analytics technology as well as being candidates for the People's Choice award.  It's amazing to think that when we wrote our entries six months ago we were approaching our 1000th event and have been so busy since then that we are now coming up to our 2000th event.
Our award entries for Best Event Analytics and Data Collection and Best Wireless Technology were based on our work with a client who had been looking for a service to help them to evaluate their attendance and spend on shows and exhibitions. They had been looking for a solution like ours but had not been successful until hearing our Commercial Director, Rob Murdoch speak at an event.
Our client's main objectives were to find out exactly how visitors interacted with their stand, how they moved around it, how long they spent there, the demographics of the visitors and how well their staff performed on the stand. At previous shows the information they had was anecdotal and they wanted first hand data they could act on.
We deployed 12 sensors and 2 Aperture camera systems in key locations to capture relevant data. During each morning pre-show briefing our data was presented to staff on the stand to highlight successes and areas that needed more attention. Using our heatmap and flow statistics staff could see the hotspots and the movement of visitors on the stand. Under performing areas were highlighted and acted on to gain improvements during the course of the show.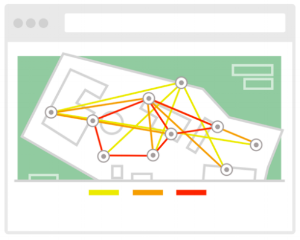 Our client had long suspected that visitors were not interested in seeing one particular part of their stand, our data proved this to them and they're now considering not installing that part and in doing so saving a considerable amount of money and space on their stand.
Our data showed that over 60% of the show visitors attended our client's stand and over half of those stayed for longer than 30 minutes. With our Aperture system we could show that 55% of visitors were male, 45% were female and 60% were aged between 30 and 45.
Going forwards our client will use our event analytics data to improve their stand layouts and will begin bench marking and comparing all their global events. This will allow them to maximise their attendance at these events and make the best use of their budget.  They explained:
Exposure Analytics is the first platform of its kind to deliver sophisticated footfall analytics to the events industry. Analysis of the data we capture tells our clients the following:
• average visit time
• most popular areas overall and hour by hour
• most popular routes around an event, stand or exhibition
• effectiveness of stands at converting passing traffic to engaged visitors
Our smart sensors each cover an area of approximately 2,500 sq ft and detect the WiFi signals
broadcast by all smart devices. Our new Aperture facial detection system has the ability to determine the age bracket, gender and sentiment of stand visitors – adding a new level of insight to our clients.
Smart sensors can run on built-in battery packs for up to 10 hours or by Ethernet for events where it is convenient and cost effective to install cables. This reduces the cost for event organisers who may be charged per number of wall sockets. Sensors can communicate to each other and the Internet via a self-healing mesh network, Ethernet or in house WiFi.
The raw data gathered and encrypted by the sensors is then sent to our advanced cloud platform for analysis which then builds a picture of visitor movements.
We run many large events on 3G/4G mobile networks as the amount of data transmitted is relatively low. A cabled internet connection is not necessary.
We love working with clients at festivals, conferences, motor shows, events, shopping centres and other activations – indoors and out. Let us help you to take the guess work out of delivering and evaluating brilliant events with our digital event analytics.  Please get in touch to find out more.