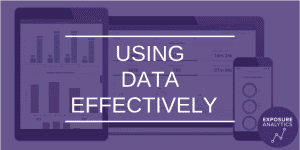 In preparation for recording my third podcast with Event Tech Live recently, I've been thinking about data effectiveness and how it's improved over the past five years in the event tech industry. It has transformed how events are run and I'm proud of the part that our company has played in that.
The data has always been there in abundance. It started at the door as you counted the footfall or the pre-registered visitors. The sign-in sheets gave you numbers as do the touchscreen points. Each stand 'clicked in' its visitors. The amount of data has never been a problem – it's just that people didn't use it in an effective way.
I'm talking in the past tense, but it's still widespread. Just recently I was at the IFA show in Berlin and visited the Samsung stand. Great stand, but with two people at the entrance using hand operated clickers to count visitors.
The tech we provide captures more advanced data, but crucially presents it in a different way. Bosses used to scratch their heads over lists of figures in a spreadsheet, trying to work out whether this year's show was better than last, and if the marketing budget is too high or too low. We're now into the world of heatmaps and real-time data that provides information that can be interpreted effectively during the event as well as after the show. I've seen 'Morning Prayers' meetings on stands that analyse the visitor and dwell time data we provide – looking at how they do things differently on day two. The data informs brands and agencies, but can also be used as an effective lever in discussions between exhibitors and event hosts. Effective, visual data can prove or disprove anecdotal opinion – 'my stand was in the worst place' or 'no-one visited during lunch'. Both event organisers and exhibitors can drive better ROMI using hard data. And that's a new and welcome thing.
Facial detection software can take data effectiveness to an even higher level. Our Aperture system provides anonymous data on the age, gender and mood of stand visitors that can gauge the reaction to an activation. It can also trigger different video content depending on the viewer – using the data immediately to tailor suitable messages to the viewer.
You can hear more about it in the podcast recording
It's exciting stuff, and if you want to find out more, Rob has two speaking slots at Event Tech Live at 11.25 and 13.50 both on Wednesday 6 November on the Brand and Buzz Stage. You can also visit us on stand 1106.

If you haven't signed up to attend Event Tech Live yet, entry is free and you can register via this link