Forge SP is no more and we are now known as Exposure Analytics.  Many of our clients are already familiar with the name, as it is our flagship service and used around the world by event organisers, experiential agencies and many major brands.
Our company has undergone big changes since we first set up four years ago. Then, as Forge SP, we offered a range of services to events and festivals.  Now we are concentrating on what our clients really want – useful, reliable data that can be used to analyse exhibitions, events, activations, and more.  In an increasingly digital world, where marketing managers are able to measure likes, clicks, shares, time spent on websites, email open rates, and so much more, we help bridge the gap at  physical events. Our digital analytics provide footfall data, movement flows around a stand, event, or festival, as well as dwell time and engagement rates for your activity.
You're looking to get people's attention and capture their interest, we can tell you how well you did.
Exposure Analytics perfectly sums up what we do, so we felt it was only right that the company name reflected this. As we head towards our 1000th event, we want to be clear about what we offer and how we can help.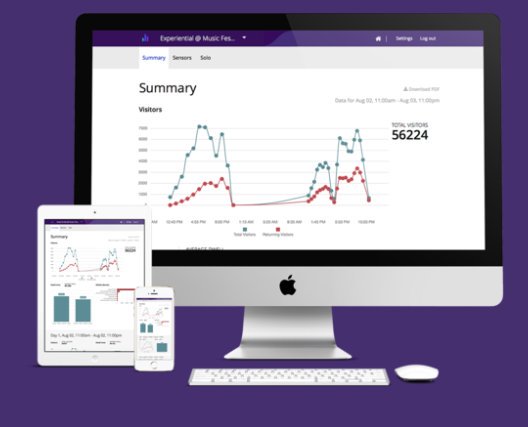 Of course, we'll still be offering the same great service, attention to detail, and the all-important data our clients love.  With the recent roll out of our 4G sensors and adding weather data to our platform we can help more clients than ever to evaluate their work, wherever it is happening, and even tell you the impact of the weather.  So far this year, we've been all around Europe, UAE and in North America at conferences, exhibitions, motor shows, shopping centres, and out on the streets.  Marketing is changing rapidly, budgets for experiential activity are increasing, and we love being part of this evolving world.
These are exciting times for us, our website already shows our new name and our social media accounts and email addresses have changed to keep everything simple.  We'd love to hear from you if you want to work with us.
Find us: