It's been another fascinating and busy year for the experiential marketing industry. Once again we've been delighted to play a key role in helping agencies and brands to evaluate the success of their experiences and events.
Making the most of your marketing budget
The most recent IPA Bellwether report is a mixed picture; it shows that once again total marketing budgets have grown but at their slowest rate for around 3 years. This means that it's more important than ever to make the most of your budget and to be able to evaluate the impact of all marketing activities.  We can provide digital analytics for physical events to help to make that possible.
Having hit the 1000 event milestone earlier this year after four years in business; six months later we've now surpassed 2000. Our sensors have captured data on behalf of clients in the US, Canada, all across Europe, the Far East and recently in Australia too. All of that data and our experience is channelled to provide insight to our clients, helping them to understand the results from their events and activations. This year more than ever we've been working with brands and agencies on an ongoing basis, from event to event and year on year. We've helped them to build up a picture of what's working well, what might need changing and capturing the data to enable them to make decisions about where to spend their budget in 2019.
Success in 2018
For us, however you evaluate it, 2018 couldn't have been better. One of the highlights of our year is always Event Tech Live. This year the event spanned two days for the first time with the Event Technology Awards on the middle evening. Well, this made for a few sore heads on the second day, but we were absolutely delighted to walk away with not one but two awards. It's a real measure of how we have grown and developed and the added value that were providing our clients. Just this week we heard that we had made the semi-final of the KPMG 2019 Best British Tech Startup Awards. So fingers crossed 2019 continues in the same path as 2018. We're off to a judging panel at the end of January to find out whether will get to pitch in the final at Mobile World Congress in February.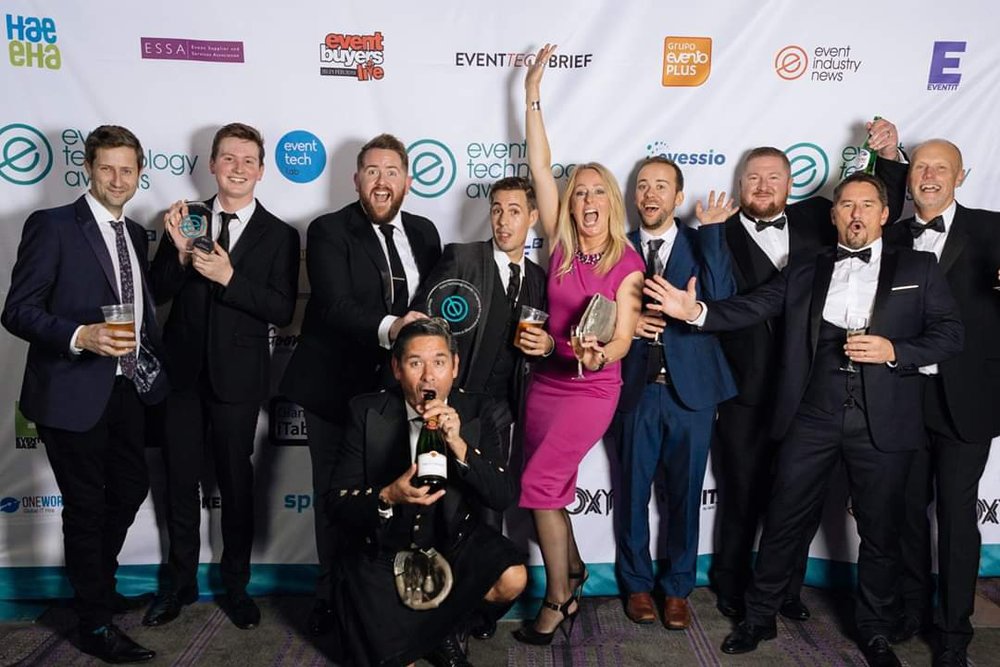 A fantastic night at the Event Technology Awards. Thanks to Splento for the amazing photographs.
Experiential budgets are diversifying – and there's more to come in 2019
We've noticed a growing trend of diversification for experiential budgets. The Goodwood Festival of Speed is just one example. It used to be dominated by motor manufacturers' activations. This year there was a wider range than ever of sponsors including hotels and tech companies. As with all good marketing it's really important to understand your audience and to go and engage with them where they are comfortable. This summer, Ford launched a new car model at a gaming event rather than a motor show. We think this trend is only likely to increase in 2019. We're seeing our clients and others using data to help them to decide how and where to spend their money to get the best results. We know our clients use the data we can provide them with to plan hourly staffing rotas, to tweak their stands from day-to-day and to make strategic decisions about where they spend their experiential marketing budgets.
Next year, we're hoping to work with more and more brands and agencies who want to benchmark their physical marketing activities to get the best long term results.
We're starting the year with an exciting trip to Las Vegas and CES; working with current clients, and talking to new ones.
For more information about powering experiences through insight in 2019, please get in touch.
We wish you all a fantastic end to 2018 and a brilliant 2019.