The Super Bowl is famous for more than sport, the half-time entertainment on and off the pitch is a huge part of the event, along with the ads aired during the game. With ad prices for this year's Super Bowl hitting a record $5.6M per 30 second spot–some brands are turned to less expensive experiential marketing events to try to cash in on the big game. We loved the activations inspired by the annual Super Bowl and the way that brands make the most of the weekend to engage with fans.  In Atlanta last year there were some fantastic activations and this year was just as good.  
Lowe's Hometown, an NFL-themed neighbourhood, featured 32 custom dwellings, one for each team, and was described as a completely interactive experience designed to engage, wow, and inspire fans. Miami's warm weather would have helped visitor numbers and engagement rates.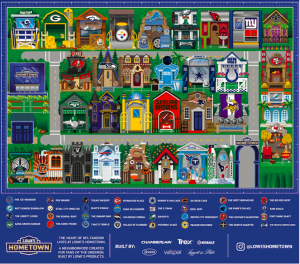 Other exciting experiential offerings included: 
Stella Artois, who dispensed with a traditional ad and instead created a European Port at the Wharf Miami. Celebrities, live music, and top quality food were on offer alongside boat rides on branded VanDutch yachts.  
Rolling Stone held its 10th annual Super Bowl party, which featured live music and a celebration of their partnership with Can-Am Spyder. Partygoers had a chance to discover the complete Can-Am lineup of Spyder and Ryker three-wheel vehicles, with on-site displays of all the newest models including the 2020 Spyder RT.
The Verizon Super Bowl fan village returned with a wide range of activities including Tailgate Town, Culinary Demos, Environmental Village, fan activities, sponsor activations, musical acts, dance performances, water shows and special surprises
We've worked at thousands of events all over the world, but sadly not the Super Bowl as yet. We'd love to install our Exposure Analytics software to allow brands to see how well their big budget experiential activities are performing. Outdoor events don't preclude brands from capturing and plotting visitor data through our technology. All we need is a 4G signal to produce valuable information about how audiences flow through activations, we even include weather data so that can be factored into the post-event evaluation.
Real-time technology already plays a big part in American Football and is now being used to provide all 32 National Football League teams with instant tactical information. Capable of displaying snapshots of the games from different angles, tablet devices allow the coaches to draw tactical plays on them and instruct players with new strategies. Our equipment also provides instant feedback to help your event or activation. You can make well-informed, quick decisions on your tactics – how do we staff the stand? Where do we place interactive features? What time is the busiest?
The Super Bowl is one of the biggest sporting events in the world and the experiences are designed to match. As always, it's vital brands make sure they are spending their budgets wisely. 
We help brands and agencies stop guessing and start measuring so they can assess return on marketing investment and plan future experiential marketing.
Get in touch to find out more about how we do it, or to secure an invite to our exclusive Data and Dining event in March.