A 2018 survey found that the most exciting opportunity for Chief Marketing Officers is optimising their customer and brand experience (Understanding Customer Engagement by emarketer, May 2018).
A key area for developing brand experience is in the experiential space. To be able to optimise experiences you need to understand how best to measure and enhance them so that you can make data-driven decisions. Traditionally CMOs have struggled to find the right technology to evaluate experiential marketing, but there are solutions that will bridge this gap and provide digital analytics for physical events.
Here are five steps you can take to improve your customers' experience
1. Define Good
The first step to success is to understand what we need to measure. This is based on your brand or agency's overall objectives. Therefore organisations assess marketing performance in these broad categories:
Revenue growth
Increase in individual sales of a product or service
Increase in customer lifetime value
Positive customer sentiment and feedback
2. Identify The Metrics That Matter
Marketers need to track the behaviours that will help them to achieve their overall goals. These can be broken down into three broad categories.
Exposure
Customers and potential customers need to be aware of your business, your products and your services. So the first thing we need to measure is who saw your brand or who had the chance to see it?
Engagement
This is an early indication of favourability. Once your target audience is aware your business exist you want them to develop a favourable disposition towards the brand,. You want them the engage with you and to be able to measure the quantity and quality of those engagements.
Action
Once you've reached your audience and engaged them, you're looking for a positive behaviour change from them towards your brand. Depending on the nature of your business this could be registering their interest in your brand by giving you their contact details so you can correspond with them, purchasing your product or services, or becoming an advocate of your brand.
3. Map the right metrics for brand experiences
Traditionally it has been difficult for marketers to apply the same rigorous levels of evaluation outlined above to brand events. But with more and more budget being assigned to events and experiential marketing, the best CMOs and their teams are now using sensor technology to measure and improve their brand experiences.
Exposure
How many people really saw or had the chance to see your work? Don't rely on organisers attendance figures to understand the impact of your event. Accurate footfall analysis is vital to measure the reach of your event or experiential activity. Our state-of-the-art sensors can give you real-time footfall counts.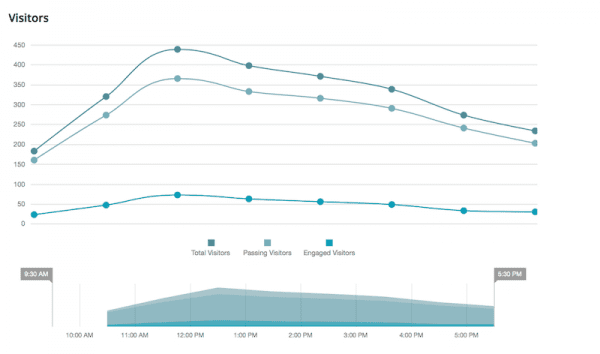 Engagement
Metrics for off-line engagement are as important as the online data. You need to know what the impact of your brand experience is. We can help you to measure dwell time, as well as create heat maps and flow charts so you can clearly understand how people have engaged with your activity. Our easy-to-use dashboard gives you all this detail at a glance. Add in our Aperture cameras and you can also capture information about the demographics of your audience, and their sentiment.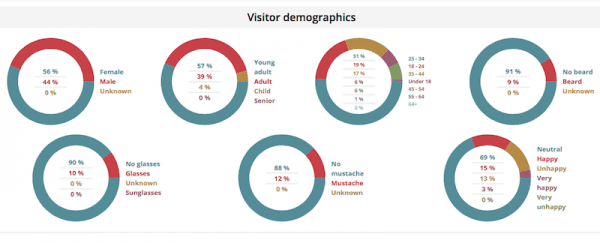 4. Use analytics to make your brand experience more relevant
Brand experiences involve a huge amount of planning, preparation and budget, so you need to make sure you are maximising your return on investment. Real-time analytics can help you to adjust things on the day or overnight during a multi-day event to achieve the best results. Flow charts and heat maps will help you to analyse how people are interacting with your work and if there are improvements that can be made. For example, if you know that dwell times aren't what you were expecting, you have the opportunity to iterate and test how you can encourage people to spend longer with you? You can then see from the analytics what has worked and what hasn't. If peak visitor times are unexpected but you have a clear picture of when your busy times are from the analytics data, you can review staffing rotas to make sure you aren't missing potential customers.
Post-event you can take a more detailed look at all of the figures and build a really accurate picture of the exposure and engagement you achieved. Our simple to understand dashboard makes data analytics simple. The information is yours to keep so you can use it for planning your next brand experience too. In the same way that you can A/B test emails and web copy, you can compare and contrast different activation locations, or stand layouts and see what works best for ROMI.
5. Link your experience analytics data to lead generation
Marketing has long been thought of in funnels and now loops, as customer lifetime value becomes increasingly significant. The final step in optimising your brand experience is to link exposure and engagement metrics from events and experiential to lead generation and other activities so you can fully assess the ROMI. What levels of exposure and engagement do you need in order to generate the right number of leads and ultimately sales? We know that clients use our footfall count, sentiment analysis, heat maps, and flow charts, alongside leads and other event follow up analysis to get a full picture of the value of their events and how experiential activity effects feeds into lead generation.
Experiential marketing and customer experience is only going to become more important over time, can you afford not to be optimising with analytics?
To find out more about how we can help you to power experiences through insight please get in touch.