The scale of the advertising and marketing activity around the Super Bowl has long been on another level compared with any other event and Super Bowl LII was no different. Advertising slots during the game cost a reported $5million and brands have been activating for up to two weeks in the host city of Minnesota.
There's always some fantastic, creative ideas on show and often a little bit of controversy too.
Here's just some of the campaigns that caught my eye this year:
1. Nickelodeon linking up with the NFL's Play 60 campaign.
2500 children had the chance to roam around sponsored booths at the Super Bowl experience, 'slime' some famous sporting volunteers and enjoy YouTube sensation Jojo Siwa live in concert. It was one of the biggest activations at the Super Bowl experience, certainly the biggest children's brand. The NFL tie-up also gave the organisation a great opportunity to appeal to their prospective players, when child participation is falling amid concerns around head injuries.
2. Built Ford Tough sleigh ride
Ford took advantage of the Super Bowl's northerly home this year by offering free sleigh rides behind a range of their trucks through the streets of downtown Minneapolis. Add to that was the attraction of the appearance of a range of footballing legends and chances to win season passes for fans' favourite teams.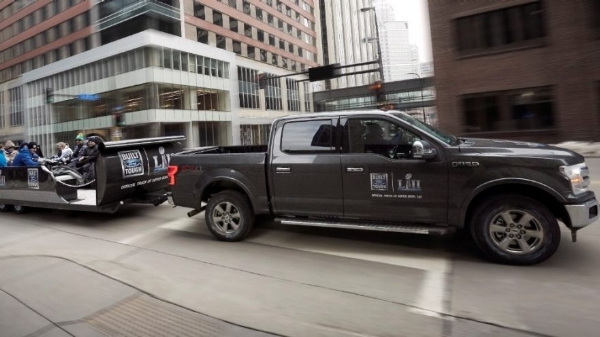 Build Ford Tough sleigh ride in Minnesota. Image from the Ford Media Centre
3. Hyundai's Hope on Wheels
Hyundai chose to focus their advertising and experiential activities on their charitable arm – 'Hope on Wheels' which supports the treatment and research into childhood cancer. Hyundai transformed metal detectors into "hope detectors," which flashed a red heart when Hyundai owners (identified by their branded car keys) passed through the detectors. They were then pulled aside and shown a version of the brand's new Super Bowl spot in private, followed by an emotional surprise meeting with some people helped by the car firms' charity. Watch it unfold on the NFL site.
Three very different activities with different audiences, but now that they're over, there's one thing all brands and agencies will be looking at – what was the impact?  Long term goals must surely be more customers and increased loyalty from existing customers and that can only be measured over time.
But as budgets for experiential activity increase calculating the return on experience becomes more and more important. Social media activity is a huge factor; reach and engagement across the key channels is an important measure of whether an activation has resonated.
For immediate analysis, we capture data to show how many people saw an activity, how many stopped to engage, how long for, and now with our facial recognition system we can monitor their sentiment too. We work with brands and agencies on a range of sporting events including football (the English kind), tennis, and motorsports, helping them to evaluate if their expenditure is making an impact and if there are ways to improve results.
Millions of dollars have been spent in the last two weeks trying to catch the eye of Super Bowl fans, we'd love to know who was the champion of engagement in Minnesota.