Slide 1
Our Products
Our technology has helped major global brands and agencies measure over 5000 events. Discover our range of award-winning solutions for event analytics designed to help you get the most out of your experiential marketing.
Gather unique metrics about the movement and engagement of your visitors
Exposure Analytics offers three types of sensors to help you gather data to measure your event's performance, understand visitor behaviour and reflect on insights to optimise in real-time and plan for the future. Our sensors – Apex, Ex Sensor and People Coordinates – can measure key data including footfall, dwell times, how visitors engaged with your brand, and how visitors moved around your space.
This data is presented through an easy-to-interpret dashboard that you can log into from anywhere and which you can use to compare multiple events to help analyse performance and justify marketing budgets.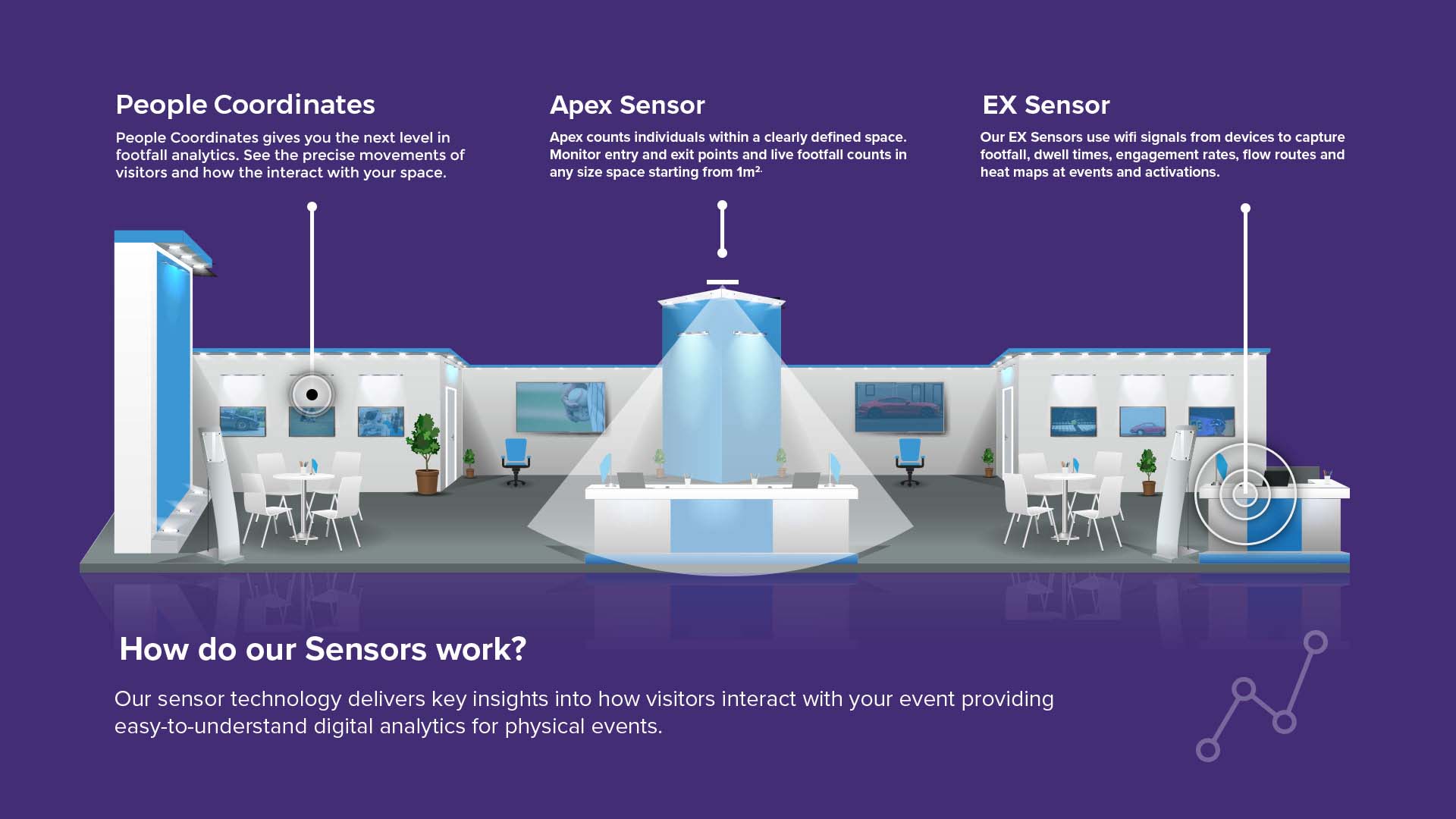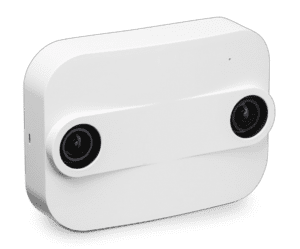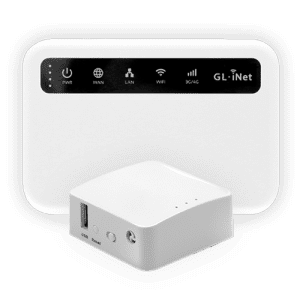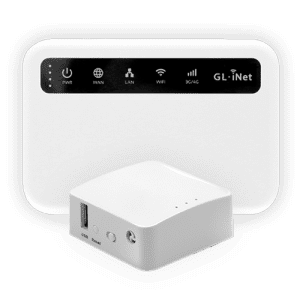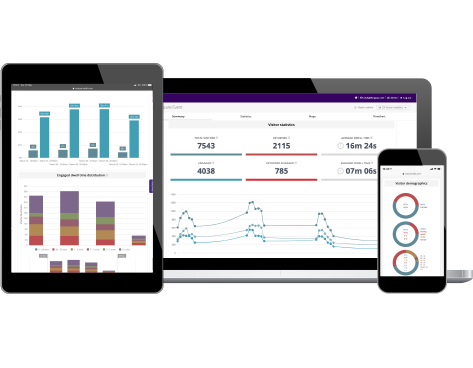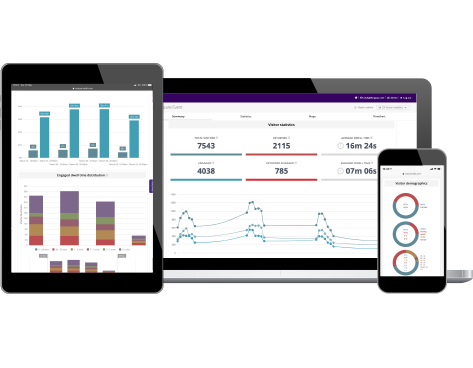 What Is Footfall Data?
Footfall data refers to the number of people that enter a specific area or building during a specified and pre-set period of time. For example, footfall could be recorded on an hourly basis or throughout the whole event. It is also known as mobility data or foot traffic data.
Footfall counting is most commonly found in the retail industry, where the number of customers that walk into the shop at a given time – such as in a week or a month – is often measured in order to gain insight into changes in consumer behaviour. However, Footfall counting can be used to understand people's movement and behaviour at corporate events and exhibitions as well, and that's where Exposure Analytics come in.
Footfall technology has evolved massively over the years, meaning that you can now track vast amounts of data more accurately than ever before. At Exposure Analytics, we can help you measure:
1

Footfall

2

3

Engagement ratios
What Is Footfall Analysis?
Footfall analysis examines the results of footfall counting to gain an understanding of the movement of people during a set time period. Analysing footfall data can lead to revelations on the busiest and least busy areas of the event, plus the combined footfall in each area, as well as the overall number of attendees.
It can also reveal waiting times between how long it takes for a customer to leave one area and move on to the next. Therefore, as a whole, footfall analysis encompasses the monitoring of footfall counts and what these footfall trends could mean for the performance and success of the event, and of future events.
Where Is Footfall Counting Used?
Footfall counting is used to monitor experiential analytics in a variety of industries and situations such as:
Retail shops

Tourist attractions like museums

Public transport spaces like train stations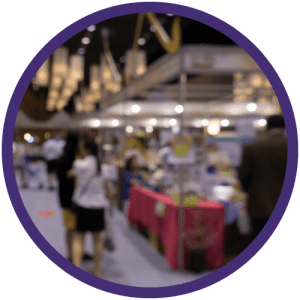 Exhibitions are an excellent way to boost brand awareness by increasing your brand's visibility directly with your target audience. Exhibitions and trade shows introduce a myriad of opportunities for your brand – including learning more about the industry and your competition, as well as the chance for direct sales with customers to generate leads and conversions.
But, how does Exposure Analytics come into all of this?
Our experiential analytics technology can help you measure valuable data during the exhibition such as footfall and visitor engagement. Our expert team works with you to implement a plan that ensures accurate data collection – from location of your stand at the exhibition to what metrics you are trying to record.
Gain access to your post-exhibition analytics report on our Exposure Analytics online platform to conduct an in-depth analysis of the data – alongside other data that was collected at the exhibition – to help you plan improvements for better exhibition performance in the future.
Experiential and Live Events
Experiential and live events are beneficial marketing approaches. They allow you to create a meaningful experience for customers or attendees that resonates with their own values. This leads to better customer perceptions of your brand, which could drive conversion rates and foster a loyal relationship between your brand and customers.
How can you measure and improve customer engagement and customer experience at such events?
When you choose to work with Exposure Analytics, our team will establish a close working relationship with you to scope out which sensors are most suitable for the event metrics that you want to track for your event.
With our system, you are able to compare results between different events to explore how various factors affect the success of the event, such as weather conditions and venue or location of event.
Exposure Analytics operates across 35 countries across the globe, so you do not have to worry about whether our systems will work for events in other countries. Our products and our talented team of analytics experts are with you every step of the way in measuring event performance.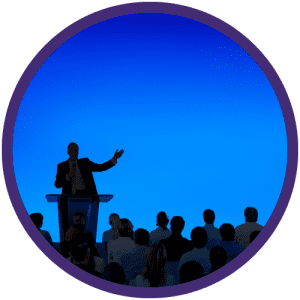 How Our Products Can Help You Understand Your Event Analytics
Exposure Analytics is a leading supplier of event analytics solutions for the likes of renowned corporations such as Amazon, Philips, and Android.
We provide indoor and outdoor sensors so the weather does not have to be an obstacle when it comes to collecting footfall data during your event. Installation is simple and efficient, with up to 30 minutes installation time for each sensor, so you can expect a no-fuss installation service from our experienced team.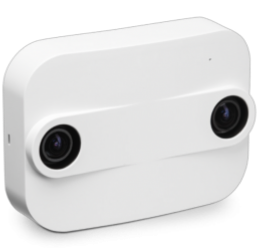 Introducing Exposure Analytics' most advanced product…
Apex is one of the most accurate footfall counting products available on the market. Apex utilises a Stereoscopic 3D Sensor so that it accurately registers people to prevent the collection of false or misleading data.
It is worth noting that Apex requires Power over Ethernet (PoE) but is manufactured with inbuilt 4G connectivity. If needed, we can also supply 4G PoE routers for the Apex.
Meanwhile, you and your visitors are given peace of mind when it comes to privacy as images are not recorded with on-board image processing on our footfall cameras. Our Apex sensors are easy to install with a simple user interface (UI) and tools that automate the collection and reporting process for you.
Apex comes with a range of features such as Apex Zones, where you can draw the area digitally that you want to monitor. It also gives you the ability to measure live occupancy at a minimum time period to remove instances of customers just walking past your stall or products. Even wide and large passages can be covered with a single sensor due to its ultra-wide viewing angles.
Apex Lines enables you to monitor the number of people that go into and exit a specific area that you can name. For example, entrance/exit refers to measuring how many people enter and exit the building or event, whilst another area could be stairs/lift to monitor the live occupancy by the stairs or lift of the building.
Accurate data can be captured since you are able to set and define your own footfall counting perimeters with Apex Lines. This means that only the data from specific areas that you require is captured, minimising excess and irrelevant data collection.
In addition to this, Apex Occupancy can display the amount of people in a given space on a compatible device that is connected to the internet. This can be positioned at certain entry points to showcase the live number of people in an area to inform customers whether they are able to enter or not.
Apex Occupancy can be particularly useful in a post-COVID environment where health, hygiene, and cleanliness are increasingly important. To limit the number of people in a given space, Apex Occupancy can be used to show whether the maximum figures for footfall have been reached, which means that other customers attempting to enter must wait before they can go in.
This can ensure the safety of visitors to mitigate the risk of overcrowding, which can negatively impact their customer experience. Another feature of Apex that can assist with this is Apex Multiple Rooms where an Apex camera is placed in numerous rooms so that you can monitor the footfall in each room.
The insights gathered from Exposure Analytics' Apex product can guide future staffing improvements, can be used for an annual footfall review, as well as help you develop better plans for reconstructing marketing initiatives and securing a marketing and event budget.
People Co-ordinates is an incredible footfall analytics tool that allows you to track the movement and behaviour of visitors in your space on a detailed and unprecedented level – this technology is unrivalled in events analytics solutions!
With People Co-ordinates, each visitor is given an ID that you are able to monitor throughout the event, enabling you to see their movements and interactions live. You can measure whether people are engaging with your space the way that it has been designed, particularly if it is a one-way system.
Measure specific interactions and dwell times to analyse the duration that people tend to stay in one area and then move on to another. Our platform aims to be as accurate as possible, with a target accuracy of +/-10% when it comes to measuring a pattern of movement.
Exposure Analytics understands that to get the most out of your marketing budget, your venue needs to be utilised to its full potential, which is what People Co-ordinates can help you figure out without disrupting the experience for your customers.
A full report can be accessed post-event and insights gathered can inform any adjustments that may need to be made for your next event to optimise the space of your venue or location.
Our technology is compliant with GDPR regulations and The Data Protection Act 2018 rules and regulations so all data recorded is anonymous and does not specifically identify individuals.
Should you require further information or have questions about our compliance and data policy, you can contact our team at DPO@exposureanalytics.com.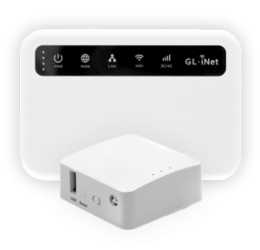 The most popular product in our lineup is the Ex Sensor: a versatile small form factor product that can easily be installed via its plug and play function. Unlike the Apex where people are detected as they walk under the sensors, the Ex Sensor detects smart devices that visitors may be carrying.
Ex Sensors are ideal for carrying out footfall counting with an 8-hour onboard battery that can be extended with an external battery pack or with the Ex Sensor plugged into a power mains. Its 16GB internal memory means that, in the event that it loses network connectivity, data can be saved locally, minimising the risk of data loss.
The Ex Sensor comes with a 4G SIM so there is no need to spend more money on network access from the venue, nor do you need to worry about having to connect it to the internet. However, the venue must still have 4G connectivity capabilities in order for our sensors to work. This means that if you are considering our products, you must also consider the 4G capabilities of the event location.
The Ex Sensor Summary and Ex Sensor Statistics features compile unique visitor statistics such as:
Total number of visitors – All unique devices that are detected at the event
Engaged visitors – Unique devices that qualify as engaged
Returned visitors – Unique devices that have returned on multiple days of the event
Returned engaged visitors – Unique devices that qualify as engaged visits that returned to the event on multiple occasions
Average dwell time – Average duration of visit for all unique devices
Engaged dwell time – Average duration of visit for engaged visitors
These statistics are further broken down into individual sensors that may have been placed at different zones within the event – therefore, you are able to see how individual sensors performed for each room or zone.
Analysing conversion rates is made easier with our Conversion Ratio for each sensor, which can show the ratio between passing to engaged customers. Additionally, the Ex Sensor Maps provides two animated infographics:
Heatmap showing the density of devices surrounding each sensor
Treemap showing the distribution share of people visiting your stall at the exhibition or trade show over time
Finally, the Ex Sensor Flowchart reveals the busiest or most popular routes that people take as they move around your venue, giving you an insight into the flow of visitor traffic. You are therefore able to discover the peak footfall traffic times and where they usually occur.
You can count on our Ex Sensor to deliver accurate footfall data, taking into account devices that were detected prior to the event such as point of sale (POS) terminals, staff devices, or Wi-Fi routers and placing them in a 'blacklist' to eliminate them as being counted as a unique device.
This leads to more definitive reporting as they are omitted in final analytics reports after the event has concluded. The blacklist time period can be set to your own preferences, but we recommend 30 minutes before the start of an event.
Now you may be wondering how you can view the metrics that are or have been recorded for evaluation purposes, but this is all available and accessible with the Exposure Analytics Dashboard.
Log in at any time from anywhere to access live insights on our Dashboard platform. The Dashboard has a simple-to-use interface, and the data itself is presented in a simple format so you do not have to be a mathematical genius or expert data analyst to understand what the data means.
Exposure Analytics' solutions enable you to view your event analytics in real time, meaning that even during the event you can optimise certain aspects of customer experience as the event progresses. Customer safety can be prioritised, whilst you gain insights into valuable footfall data simultaneously.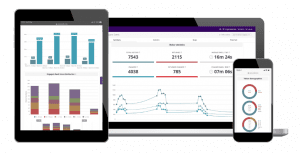 Develop a Deeper Understanding of Event Metrics with Exposure Analytics






CONTACT EXPOSURE ANALYTICS
Want to get in touch? Drop us a line by using the contact form below or give us a call on 0203 982 0997