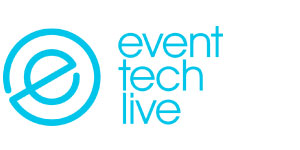 Event Tech Live, now in its fifth year, is Europe's only free-to-attend show dedicated to event technology. 
The Challenge
Running a successful trade show takes a huge amount of time, effort and budget. During the event, organisers are in-demand and it's hard to find time to stop and analyse what's happening across the event space for real-time analysis and post-event evaluation. Importantly, event organisers need to create successful, sustainable events by ensuring maximum income for each square foot of space and by attracting repeat bookings for future events. They also need to be able to provide exhibitors with accurate information so that they can establish effective ROI for their event stands.
The Solution
Exposure Analytics has worked with the organisers of Event Tech Live for five years, supporting them to develop and grow the event which now attracts more than 2000 attendees and 100 event technology suppliers.  Our award-winning sensors provide accurate footfall counts at regular intervals throughout the event. They show the dwell time in particular areas, heat maps of where people are choosing to spend their time, and also the routes taken around the event.  The data removes the subjectivity of event evaluation, removing the need to rely on anecdotal information of busy times and busy locations. As well as evaluating the most recent event the data is invaluable for planning the next event, working to remove any quiet areas, and ensuring the best possible use of all of the available floor space.
The Data
Accessed via our easy-to-use platform, the data for Event Tech Live can really help us to understand how many people attended, busy times, and dwell times. We can quickly get an overview of total visitor numbers, and how they were distributed over the two day event.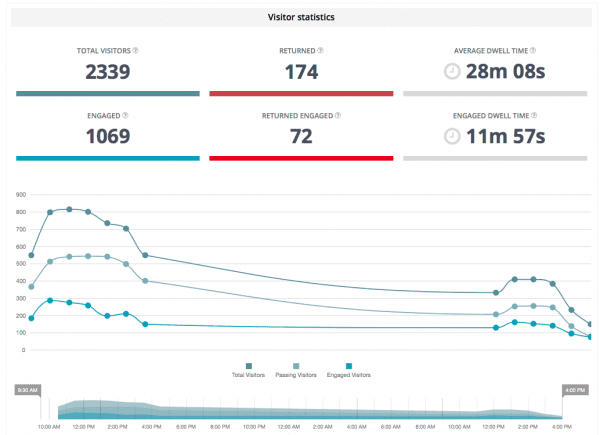 Heat maps show the locations of visitors throughout the event, helping to evaluate which areas were most attractive to attendees. Using data from previous events, Event Tech Live have now reached a point where there are no 'bad' areas, the final heat map is red in all corners!
Flow charts reveal how attendees moved around Event Tech Live, and whether this correlates to expectations prior to the event. Either way it provides valuable evidence to inform future layouts to create the best visitor experience.

The Results
Data revealed by Exposure Analytics has helped Event Tech Live to generate an even spread of visitors through each event, using WiFi beacon information to measure numbers and dwell times. Data was instrumental in changing the layout of the exhibition floor – moving a previously quieter themed stand to a better location and driving up visitor numbers and dwell times.
Data also provided accurate visitor numbers. Correlation against the electronic registration scheme and WiFi beacon data was out by only two people – proving that visitors carrying multiple WiFi devices were not skewing attendance number figures.
Coupled with lead generation software, Event Tech live was able to build compelling metrics for exhibitors on the effectiveness of their stand and activations. This accurate data enabled organisers to generate strong re-booking figures and provided factual feedback to exhibitors rather than relying on anecdotal opinions.
Our client's view
Adam Parry – the co-founder of Event Tech live and the Event Tech Awards said: "Our partnership with Rob and Exposure Analytics has been instrumental in our growth. Their expertise has allowed us to say to exhibitors that it doesn't matter where they are on the floor, we have worked hard to give them an audience, and we have the data to prove it.
It's easy for event organisers to not improve by following the status quo each year, avoiding the risk of changing their events, unsure of what may happen. Not with Exposure Analytics. Their information allows us to play back facts to our clients, not opinions – giving them the data they need to improve and generate leads."
It is this data that we can combine with our touch point metrics to paint an accurate picture to our exhibitors – helping them to succeed and also allowing us to be confident when approaching them to re-book for the following year's event."
"Across the events industry, people in the know are saying 'exhibitors are using this kind of tech, why aren't event organisers using it more?' We're pleased to be ahead of the game by working with Exposure Analytics for the past five years."
If you're an event organiser who wants to be sure they have the best lay out to suit exhibitors and attendees get in touch for a free demo.